THE PUNISHMENT OF PERPETRATORS OF CORRUPTION WITH THE APPROACH OF THE LOCAL WISDOM
Businesses Looking For An Alternative Model Of Criminal In Indonesia
Dinda Dinanti

Universitas Pembangunan Nasional Veteran Jakarta

Dwi Desi Yayi Tarina

Universitas Pembangunan Nasional Veteran Jakarta
Keywords:
Perpetrators of Corruption, Local Wisdom, Model of Criminal
Abstract
Corruption in Indonesia stick on all aspects or areas of life in society. Corruption not only happens among regions, but also present a centre where the Center is the highest level. The growing crime of corruption in Indonesia, making the community more and do not believe in the law enforcement performance filled with the intervention of interest, the lack of good faith and far from independence and seriousness in dealing with the cases of corruption. With the juridical sociological approach, which includes aspects of norms or rules, guided by rules or regulations that underpin the process of eradicating corruption. Whereas, for his sociological social involved within the context of an alternative model of criminal in Indonesia. Some of the data required from the Corruption Eradication Commission, Indonesia Corruption Watch and State Court criminal acts of Corruption is absolutely required. The data in the form of annual statistical data on Indonesia, as well as alternative models criminal for perpetrators of corruption. The judgment of people who authorities have been set up in Act No. 31 of the year 1999 has been amended by Act No. 20 of 2001 year of the eradication of criminal acts of corruption. However, it still needs to be examined again an alternative model of criminal in Indonesia so that it will not pose a deterrent effect.
Downloads
Download data is not yet available.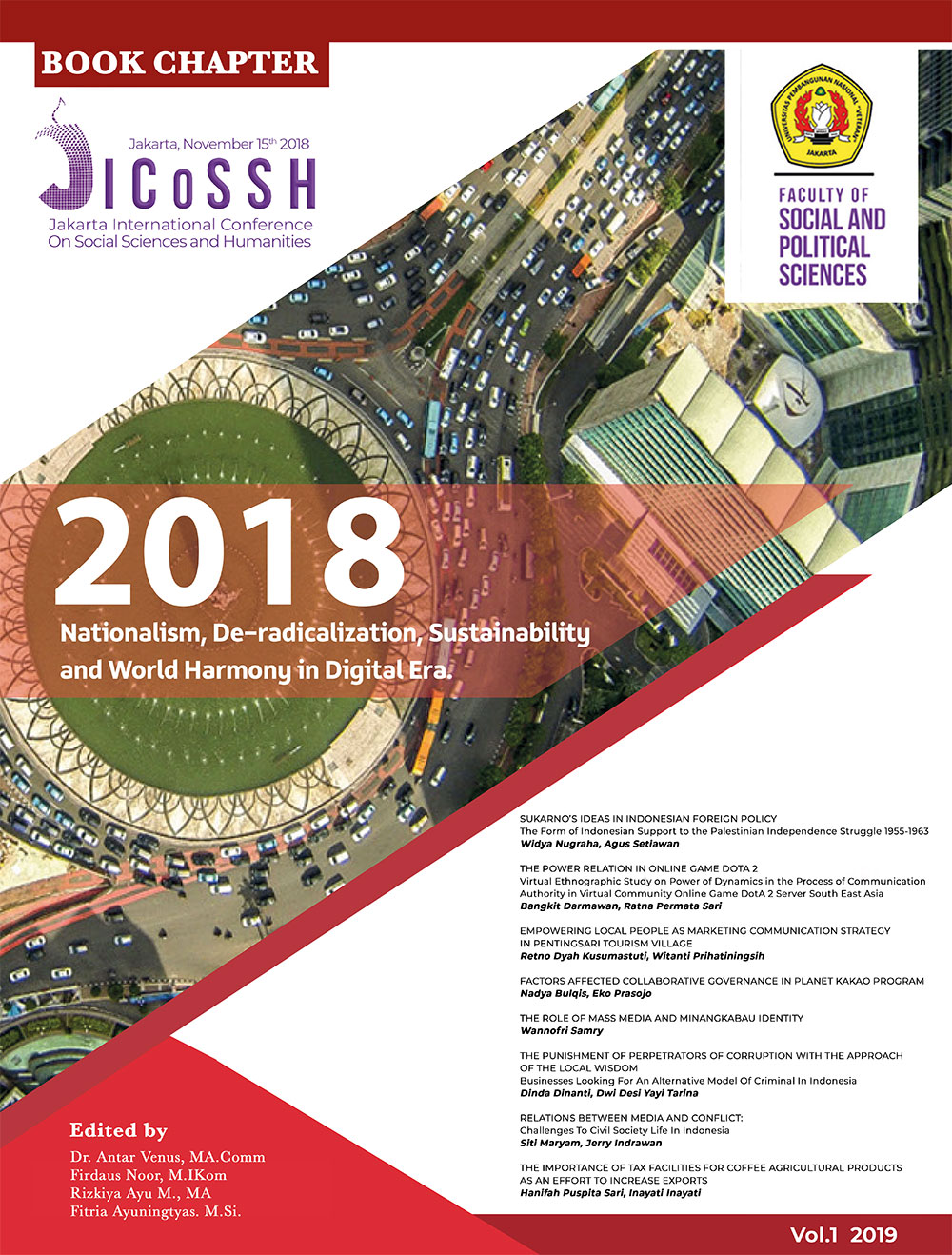 How to Cite
Dinanti, D., & Desi Yayi Tarina, D. (2019). THE PUNISHMENT OF PERPETRATORS OF CORRUPTION WITH THE APPROACH OF THE LOCAL WISDOM. Book Chapters of The 1st Jakarta International Conference on Social Sciences and Humanities (JICoSSH), 1(1), 90-113. https://doi.org/10.33822/jicossh.v1i1.7