FACTORS AFFECTED COLLABORATIVE GOVERNANCE IN PLANET KAKAO PROGRAM
Nadya Bulqis

University of Indonesia

Eko Prasojo

University of Indonesia
Keywords:
Collaborative governance, Planet Kakao Program
Abstract
Government of East Java through Dinas Perkebunan (The Farm Agency) initiated a program, called Planet Kakao. A program manages cocoa from the upstream to the downstream. It was found that there was an increase in the area of community cocoa farms and cocoa productivity after this program. This program does not only involve the Farm Office, but also several other actors. Like Puslitkoka, Research Center for Coffee and Cocoa, business centers and cocoa activities such as Kampung Coklat Blitar, Banking, and the Association of East Java cocoa farmers. This study uses a qualitative approach with data collection methods in the form of in-depth interviews and secondary data. The preliminary results that I found in this study was collaborative governance in the Planet Kakao Program were affected by the factors proposed by Ansell and Gash. That are starting conditions, institutional design, facilitative leadership, and the collaboration process itself. In the context of the program, the facilitative leadership factor determines the success of the program. Started from the initiative program, the personal approach did by Dinas Perkebunan, and the integrity of the leader . This program continues despite changes at the top of the Dinas Perkebunan leadership. Research results are expected to be able to be used to develop in developing countries. Previously, many studies stated that collaborative governance could only be done in developed countries. In addition, the results of the research can produce material for other regional governments to replicate similar programs.
References and Reading List
Books
Chottray, V dan Stoker, G. 2009. Governance Theory and Practice; A Cross Disciplinary Approch. UK: Palgrave Macmillan
Donahue, John D & Zeckhauser, Richard. 2011. Collaborative Governance: Private Roles for Public Goals in Turbulent Times. UK: Princeton University Press
Kooiman, Jan. 1993. Modern Governance. New Government: New Government-Society. Rotterdam: Erasmus University
Neuman, W Laurence. 2014. Social Research Methods: Qualitative and Quantitative Approaches. Edinburg: Pearson Education Limited
Peters, B Guy dan Pierre Jon. 2006. Governance, Accountability, and Democratic Legitimacy. Routledge. New York.
Torfing, Jacob et al. (2012). Interactive Governance: Advancing The Paradigm. New York: Oxford University Press
Wanna, J., & O'Flynn, J. (2008). Collaborative Governance, A new era of public policy in Australia?. Canberra: ANU Press.
Jurnal
Ansell, Chris dan Gash, Alison. 2007. Collaborative Governance in Practice and Theory. Journal of Public Administration Research and Theory. Oxford University
De Freis, Michiel. 2013. The Challenge of Good Governance. The Innovation Journal: The Public Sector Innovation Journal
Emerson, Kirk dan Nabatchi, Tina. 2015. Collaborative Governence Regimes. Georgetown University Press
Imperal, Mark T. 2005. Using Collaboration as Government Strategy: Lessons from Six Watershed Management Program. Administration & Society Journal Vol. 37
Morse, Ricardo S & Stephens John B. Teaching Collaborative Governance: Phases, Competencies, and Case-Based Learning. Journal of Public Affairs Education 18.
Somantri, Gumilar Rosliwa. 2005. Memahami Metode Kualitatif. Jurnal Makara Vol 9.
Sufianti, Ely. 2014. Kepemimpinan dan Perencanaan Kolaboratif pada Masyarakat Non-Kolaboratif. Jurnal Perencanaan Wilayah dan Kota Vol.25
Tresliyana, Anggita et al. 2015. Daya Saing Kakao Indonesia di Pasar Internasional. Jurnal Manajemen dan Agribisnis Institut Pertanian Bogor.
Wang, Shilong. 2014. Research on the Collaborative Governance Model in the Charity Organization under Polycentric Perspective. Scientific Research Publishing Inc.
Zadek, Simon. 2006. The Logic of Collaborative Governance; Corporate Responsibility, Accountability, and the Social Contract. Working Paper No 14 Cambridge. MA: John F Kennedy School of Government, Harvard University.
Document
Badan Pusat Statistik. 2017. Statistik Nilai Tukar Petani Provinsi Jawa Timur 2017.
Badan Pusat Statistik. 2016. Statistik Kakao Indonesia.
Badan Pusat Statistik Jawa Timur. 2014. Jawa Timur dalam Angka 2014.
Dinas Perkebunan Jawa Timur. Rencana Strategis Dinas Perkebunan Jatim 2009-2014.
Dinas Perkebunan Jawa Timur. Rencana Strategis Dinas Perkebunan Jatim 2014-2019.
Ditjenbun Pertanian. 2017. Statistik Perkebunan Indonesia.
Jaringan Inovasi Pelayanan Publik Jawa Timur. 2017. Planet Kakao: Pengelolaan dan Edukasi Terpadu Kakao Melalui Kebun Rakyat Demi Indonesia Daulat Coklat. Diunduh pada Agustus 2018 melalui
http://www.jipp.jatimprov.go.id/?page=database_detail&id=72
Republik Indonesia. Undang-Undang Nomor 18 Tahun 2004 tentang Perkebunan.
Articles
Ditjenbun Pertanian. 2014. Hari Perkebunan Ke-57 Tahun 2014: Momentum Mengembalikan Kejayaan Perkebunan. Diakses pada 15 Agustus 2018 melalui http://ditjenbun.pertanian.go.id/berita-367-hari-perkebunan-ke57-tahun-2014--momentum-mengembalikan-kejayaan-perkebunan.html
Prahara, Haris. 2017. Sektor Pertanian dan Citra Indonesia di Mata Dunia. Diakses pada 18 Agustus 2018 melalui
https://ekonomi.kompas.com/read/2017/09/30/132000326/sektor-pertanian-dan-citra-indonesia-di-mata-dunia
Salam, Nur. 2017. Masuk Top 40 Inovasi Pelayanan Publik, Pemprov Jatim Kantongi Tiga Penghargaan. Diakses pada Mei 2018 melalui
         https://jatim.merdeka.com/kabare-jatim/masuk-top-40-inovasi-pelayanan-publik-pemprov-jatim-kantongi-tiga-penghargaan-170826l.html
Statisca.com. World Cocoa Production by Country from 2012/2013 to 2016/2017 (in 1000 Metric Tons). Diakses pada 3 Agustus 2018 melalui
https://www.statista.com/statistics/263855/cocoa-bean-production-worldwide-by-region/
Rahadi, Fernan. 2017. Jatim Raih Penghargaan Top 40 Inovasi Pelayanan Publik. Diakses pada Mei 2018 melalui
https://www.republika.co.id/berita/nasional/daerah/17/08/25/ov8sj4291-jatim-raih-penghargaan-top-40-inovasi-pelayanan-publik
Riady, Erliana. 2017. Kakao Blitar Laris Hingga ke Malaysia. Diakses pada Mei 2018 melalui https://finance.detik.com/industri/d-3578857/kakao-blitar-laris-hingga-ke-malaysia-dan-singapura
Downloads
Download data is not yet available.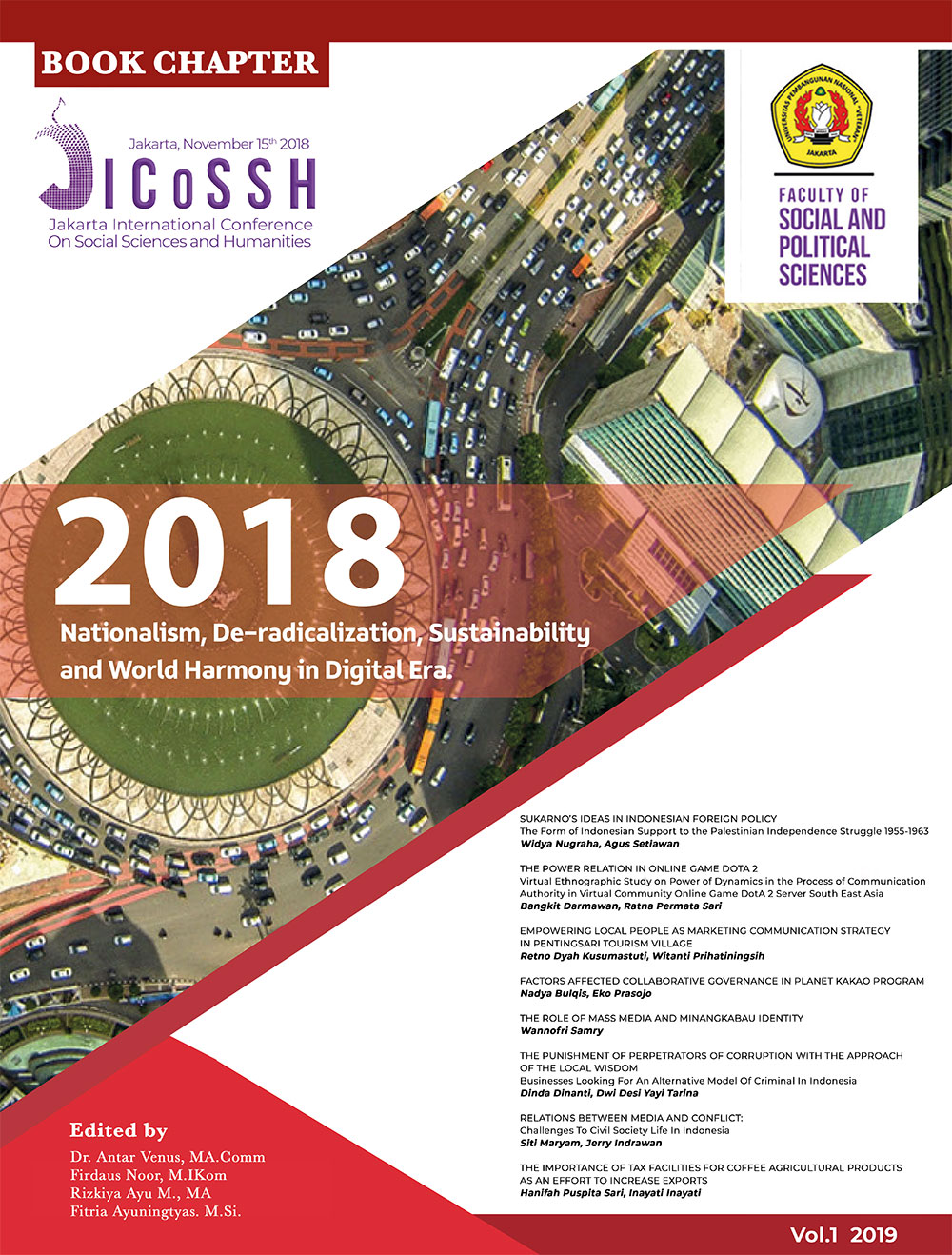 How to Cite
Bulqis, N., & Prasojo, E. (2019). FACTORS AFFECTED COLLABORATIVE GOVERNANCE IN PLANET KAKAO PROGRAM. Book Chapters of The 1st Jakarta International Conference on Social Sciences and Humanities (JICoSSH), 1(1), 65-89. Retrieved from https://ebook.upnvj.ac.id/index.php/jicossh/article/view/5