EMPOWERING LOCAL PEOPLE AS MARKETING COMMUNICATION STRATEGY IN PENTINGSARI TOURISM VILLAGE
Retno Dyah Kusumastuti

Universitas Pembangunan Nasional Veteran Jakarta, Indonesia.

Witanti Prihatiningsih

Universitas Pembangunan Nasional Veteran Jakarta, Indonesia.
Keywords:
local residents, marketing communication, Pentingsari Tourism Village
Abstract
An important aspect of marketing is communication. Communication plays an important role in delivering and obtaining information. Marketing communication has three stages of change addressed to the consumer, which is the change of knowledge, attitude, and behavior. The purpose of this research is to understanding how to empowering local people as marketing communication strategy in Pentingsari Tourism Village. This research uses integrated marketing communication concept. The method used in this research is qualitative with case study approach. The data were obtained through in-depth interviews, observation, literature study, and documentation with local residents in Pentingsari Tourism Village. The results of this study shows the implementation of marketing communications strategies undertaken by local residents in the Tourism Village Pentingsari. Communication process can be seen from 6 components: source, delivered message, channel used, message recipient, impact and planning monitoring or evaluation. The conclusion of this studi is that local residents are reliable communicators in increasing tourists visits, as they are considered understanding the history of the village.
REFERENCES
 Adisaputro, Gunawan. (2010). Manajemen Pemasaran: Analisis untuk Perancangan Strategi Pemasaran. Yogyakarta: Sekolah Tinggi Ilmu Manajemen YKPN.
 Cannon, Joseph P. (2008). Pemasaran Dasar: Pendekatan Manajerial Global = Basic Marketing, a Global Managerial Approach. Jakarta: Salemba.
 Creswell, J. W. (1994). Research Design: Qualitative and Quantitaive Approach.   California: Sage Publication.
 _____________. (1998). Qualitative inquiry and research design : choosing among           five tradition. London : Sage Publication.
 Fill, Chris. (1999). Marketing Communications Contexts, Contents and Strategies. London-New York: Prentice Hall.
 Griffin, Jill. (2005). Customer Loyalty. Jakarta: Penerbit Erlangga.
 Hamad. Ibnu, (2008). Perencanaan Program Komunikasi. Jakarta: Universitas Terbuka.
 Jauch, Lawrence R & Glueck, William F. (1999). Manajemen Strategis dan Kebijakan Bersaing, terjemahan Agus Dharma. Jakarta: Erlangga.
Kasali, Rhenald. (1995). Manajemen Periklanan. Jakarta: PT Grafiti.
 Kotler, Philip dan Keller, Kevin Lane. (2009). Komunikasi Pemasaran Jilid 2. Jakarta: Erlangga.
 Moleong, Lexy. J. (2010).Metodologi Penelitian Kualitatif. Bandung: Remaja Rosdakarya.
 Morissan. (2010). Periklanan: Komunikasi Pemasaran Terpadu. Jakarta: Kencana.
 Muhammad, As'adi. (2009). Cara Pintar Promosi Murah dan Efektif. Yogyakarta: Garailmu.
 Sulaksana, Uyung. (2007). Intergated Marketing Communications. Yogyakarta: Pustaka Pelajar.
 Suryanto M. (2007). Marketing Strategy Top Brand Indonesia. Yogyakarta: Andi.
 Tjiptono, Andi. (2002). Strategi Pemasaran. Yogyakarta: Andi.
 Usman, Husaini dan Akbar, Purnomo Setyadi. (2008). Metode Penelitian Sosial.     Jakarta: Bumi Aksara.
 Widiasari, Natalia & Djohari, Hardy. (2010). Communication Research Conference Proceeding: Strategi KomunikasiPerusahaan Pengolahan Sampah "JP" dalam Mempromosikan Usahanya kepada Para Pelanggan dan Pemasok Berdasarkan Segmenting, Targeting dan Positioning. Jakarta: STIKOM The London School of Public Relations.
 Zebua, Marahati. (2016). Inspirasi Pengembangan Pariwisata Daerah. Yogyakarta: Deepublish.
Downloads
Download data is not yet available.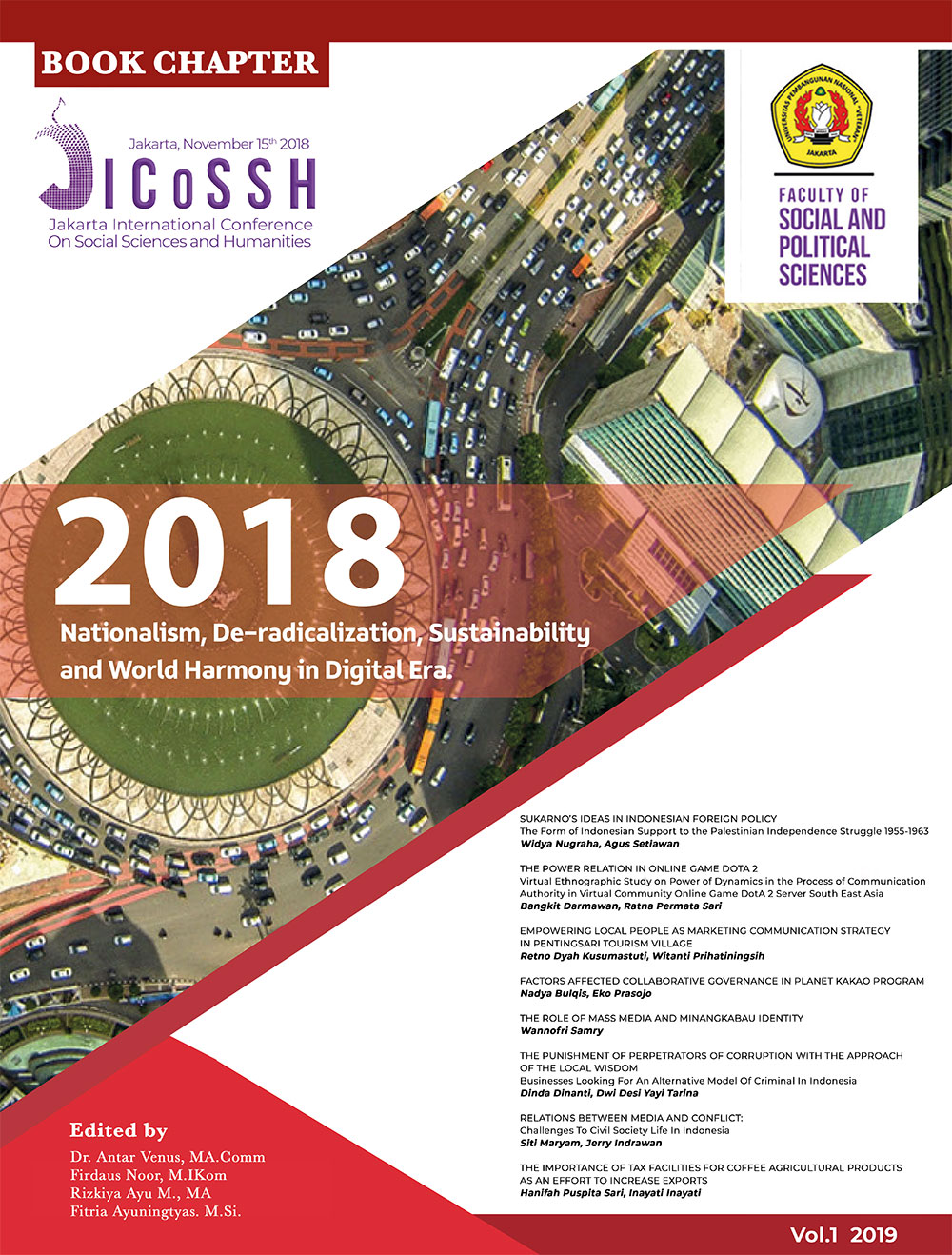 How to Cite
Kusumastuti, R. D., & Prihatiningsih, W. (2019). EMPOWERING LOCAL PEOPLE AS MARKETING COMMUNICATION STRATEGY IN PENTINGSARI TOURISM VILLAGE. Book Chapters of The 1st Jakarta International Conference on Social Sciences and Humanities (JICoSSH), 1(1), 33-51. Retrieved from https://ebook.upnvj.ac.id/index.php/jicossh/article/view/4