THE ROLE OF MALAYSIAN ONLINE MEDIA FOR ACHIEVING THE SDGS AND THE MALAYSIA'S DEVELOPMENT AGENDA
Nik Norma Nik Hasan

School of Communication Universiti Sains Malaysia
Keywords:
Sustainable development goals, 11th Malaysia plan, online media, development journalism
Abstract
In this presentation I argue that the media are important tools of national development. One way to propel the SDGs into the public sphere and planes of national discourse is through the media because  of its ability to hold government accountable to the people. Subsequently, the role of the media in development will be: to serve as nation builders, partners with government, agents of empowerment as well as watchdogs and guardians of transparency. This study used the News Framing theory to examine how Malaysian online newspapers framed the Sustainable Development Goals (SDGs) which also aligns with the 11th Malaysia Plan (2016-2020). Previous research already shows that Malaysians exhibit an intensive online news consumption behavior. This suggests that the Malaysian online newspapers can assign importance to developmental issues and raise them to the planes of national discourse. The significant themes from the findings appeared in five broad themes: economy, education, environment, infrastructure and poverty. These themes intermingled with all the 17SDGs and 11MP. Salience was attributed to Malaysian development agendas through routinely used key words and phrases, news elements and news sources. This suggests that the sampled Malaysian online newspapers served a watchdog role.
Downloads
Download data is not yet available.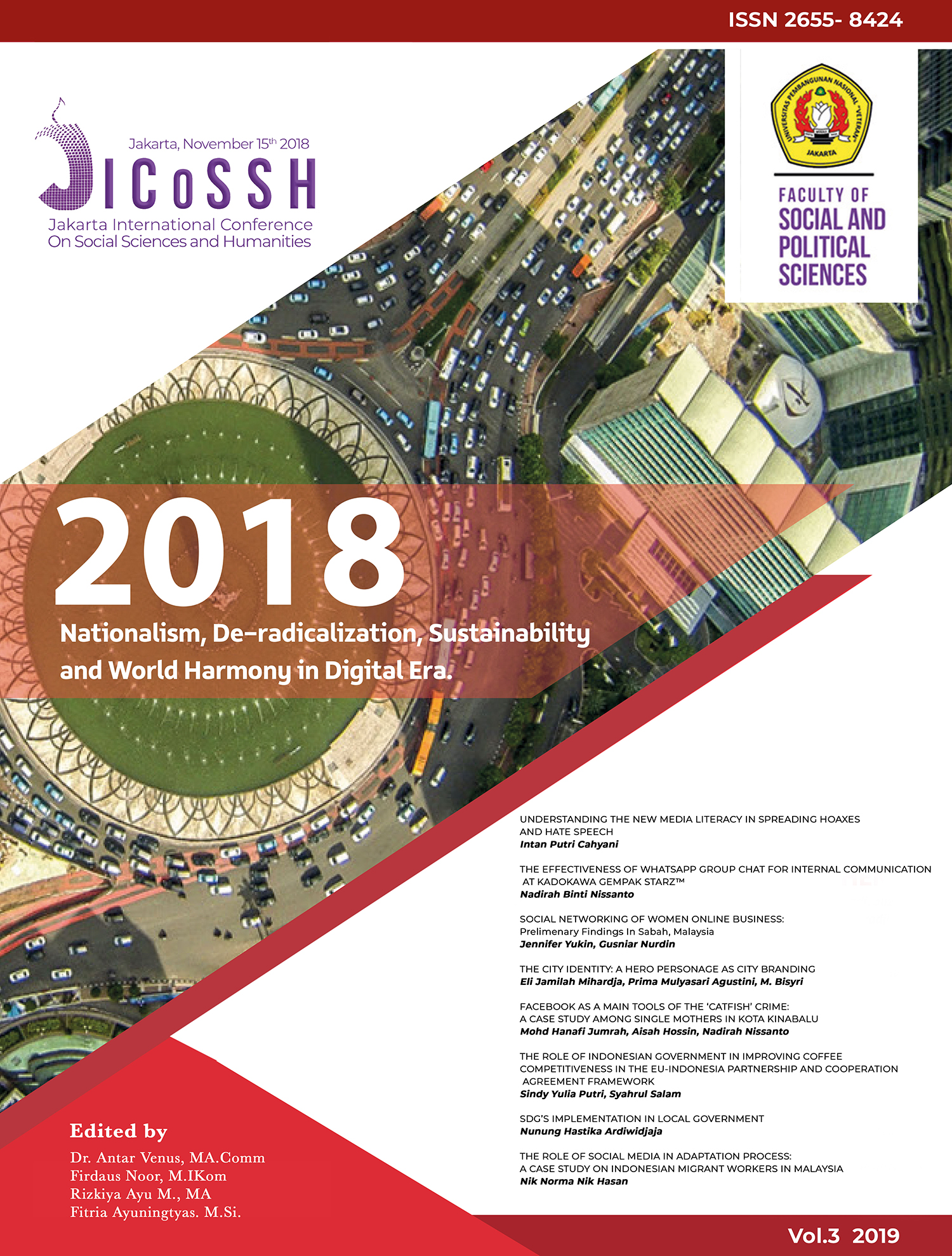 How to Cite
Nik Hasan, N. N. (2019). THE ROLE OF MALAYSIAN ONLINE MEDIA FOR ACHIEVING THE SDGS AND THE MALAYSIA'S DEVELOPMENT AGENDA. Book Chapters of The 1st Jakarta International Conference on Social Sciences and Humanities (JICoSSH), 3, 329-344. https://doi.org/10.33822/jicossh.v3i0.25