THE ROLE OF INDONESIAN GOVERNMENT IN IMPROVING COFFEE COMPETITIVENESS IN THE EU-INDONESIA PARTNERSHIP AND COOPERATION AGREEMENT FRAMEWORK
Sindy Yulia Putri

Universitas Pembangunan Nasional Veteran Jakarta

Syahrul Salam

Universitas Pembangunan Nasional Veteran Jakarta, Indonesia.
Keywords:
Indonesia, EU, Coffee, Competitiveness
Abstract
Indonesia is a crucial trading partner for the European Union (EU) and vice versa. Indonesia as one of ASEAN member countries contributes 36% of ASEAN's GDP with a population of 255 million (equivalent to almost half the ASEAN population). Indonesia and the EU further strengthen economic cooperation through the framework of the EU-Indonesia Partnership and Cooperation Agreement (PCA) cooperation. In the framework of the collaboration, most of Indonesia's exports to EU countries are in the form of agricultural and plantation commodities. For plantation commodities, coffee is Indonesia's leading export commodity with the potential to increase national economic growth. However, Indonesian coffee production has not been fully able to control EU market share. Although Indonesia is the third largest coffee producer in the world, Indonesia only controls 4.17% of the EU coffee market share. This is because only a small portion of Indonesian coffee is produced based on EU standards such as sustainability standards. Therefore, the Indonesian Government seeks to improve the competitiveness of Indonesian coffee commodities, such as production, quality of coffee, quality standards, human resources, and government coordination with coffee / private sector entrepreneurs.
Downloads
Download data is not yet available.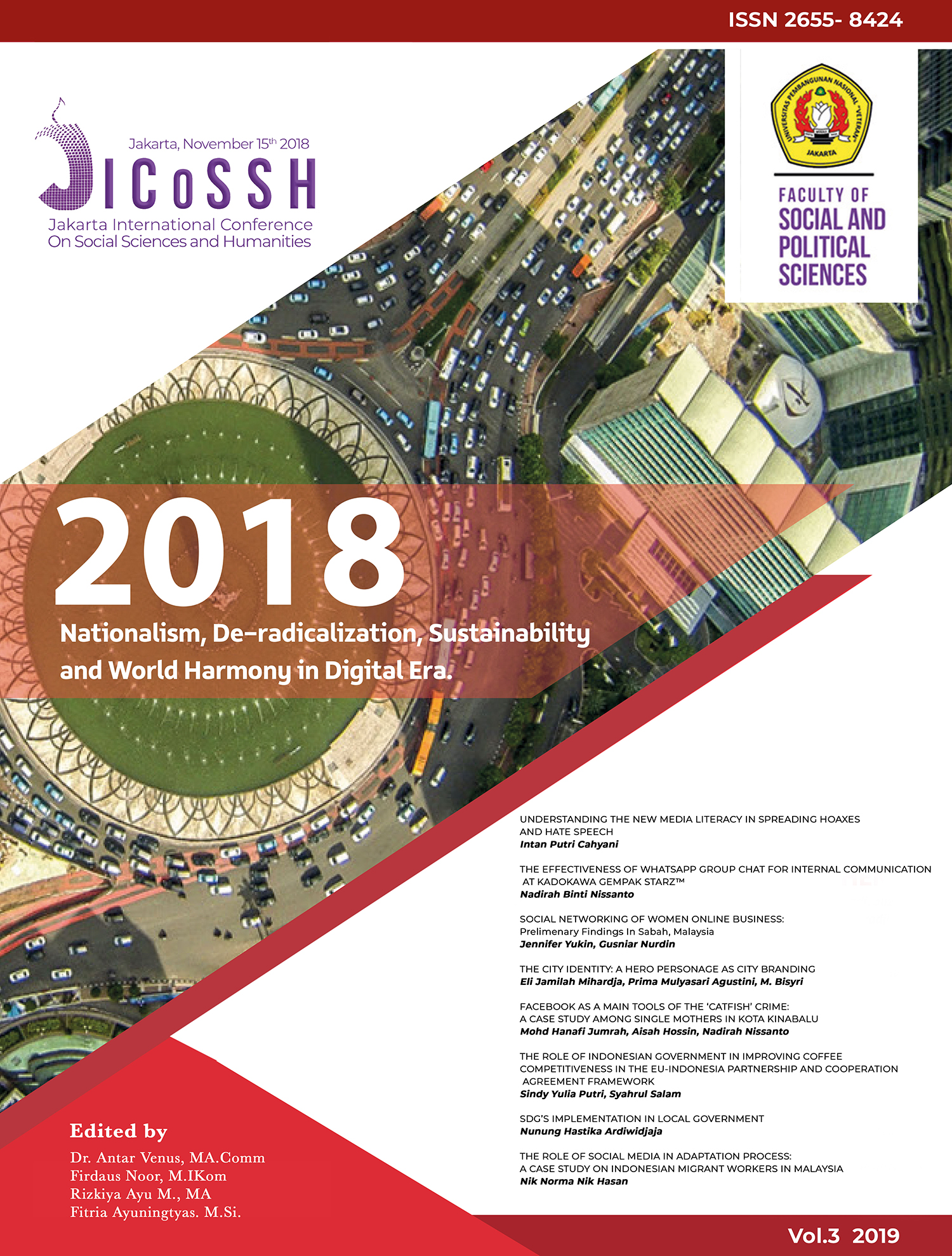 How to Cite
Yulia Putri, S., & Salam, S. (2019). THE ROLE OF INDONESIAN GOVERNMENT IN IMPROVING COFFEE COMPETITIVENESS IN THE EU-INDONESIA PARTNERSHIP AND COOPERATION AGREEMENT FRAMEWORK. Book Chapters of The 1st Jakarta International Conference on Social Sciences and Humanities (JICoSSH), 3, 311-322. https://doi.org/10.33822/jicossh.v3i0.23