THE EFFECTIVENESS OF WHATSAPP GROUP CHAT FOR INTERNAL COMMUNICATION AT KADOKAWA GEMPAK STARZ™
Nadirah Binti Nissanto

Faculty of Development and Multicultural Studies University College Sabah Foundation, Kota Kinabalu, Sabah, Malaysia
Keywords:
Internal Communication, WhatsApp, Technology, Effectiveness
Abstract
This study emphasizes on the proliferation of technological devices such as smartphones and the effectiveness of WhatsApp Group Chat in working organization such as Kadokawa Gempak Starz™ for Internal Communication. Technology is applied in work as they aid in solving problems and easy access to information. There were two research objectives which the study seeks to determine. First is to explain the adoption of WhatsApp Group Chat for Internal Communication through Technology Acceptance Model. Second, is to examine the challenges of using WhatsApp Group Chat for Internal Communication. The study employed a research design based on questionnaire with a total number of 120 respondents. Ultimately the findings showed that the respondents find it challenging to use WhatsApp Group Chat for Internal Communication and are on the fence about its usage for Internal Communication as well as the effectiveness to serve as a communication tool for internal Communication at Kadokawa Gempak Starz™, all of these variables will hugely impacted the behavioral intention towards WhatsApp Group Chat in the future.
Downloads
Download data is not yet available.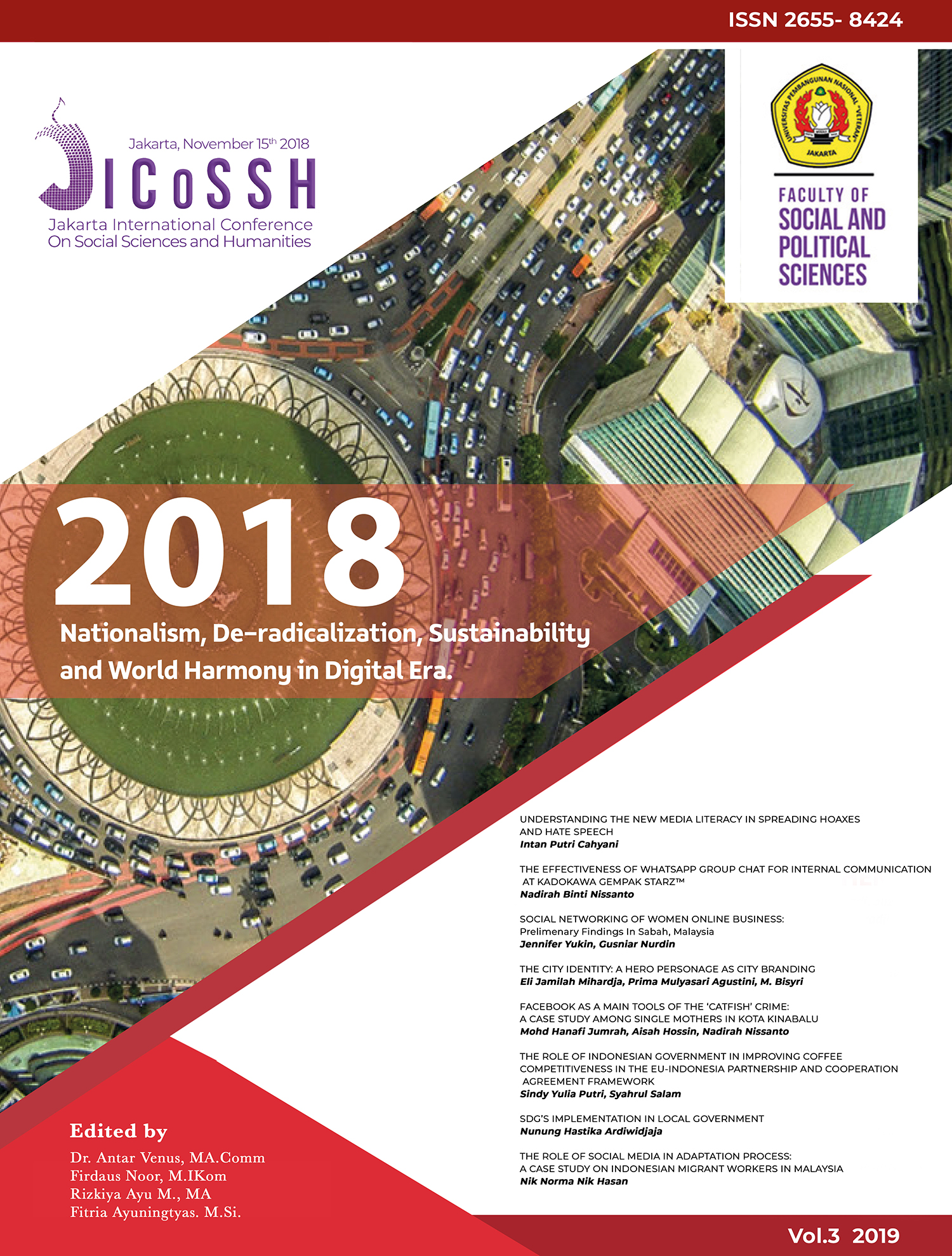 How to Cite
Binti Nissanto, N. (2019). THE EFFECTIVENESS OF WHATSAPP GROUP CHAT FOR INTERNAL COMMUNICATION AT KADOKAWA GEMPAK STARZ™. Book Chapters of The 1st Jakarta International Conference on Social Sciences and Humanities (JICoSSH), 3, 270-279. https://doi.org/10.33822/jicossh.v3i0.19