UNDERSTANDING THE NEW MEDIA LITERACY IN SPREADING HOAXES AND HATE SPEECH
A Phenomenology Study Of Lecturers As Whatsapp Group Users
Intan Putri Cahyani

Universitas Pembangunan Nasional Veteran Jakarta
Keywords:
Social Media, New Media Literacy, Hoax Information, Hate Speech, Whatsapp Group
Abstract
The emergence of the internet and social media has changed the ease of interaction and the position of humans where they are no longer just as consumers, but as producers and distributors of messages. Whatsapp as the top three social media platforms that are widely used in Indonesia is one of the most common social media circulating information on hoaxes and hate speeches. With the massive information circulating on social media, new media literacy has a very significant role. Lecturers as professional and well-educated people should be able to understand, analyze, assess, and criticize every information carried by social media. But lately there have been various cases of misuse of social media involving lecturers to the realm of law. This will be a threat because lecturers are professions that are used as role models and key opinion leaders in the society. Therefore, researchers are interested in understanding the experience of new media literacy in the dissemination of information on hoaxes and hate speech among social media lecturers, especially Whatsapp Group. Jenkins's theory of new media literacy is used in this qualitative research with an interpretive constructivism paradigm. The research method uses Edmund Husserl's classical phenomenology which emphasizes the essence of the subject (human consciousness) and its activities. The results show that Whatsapp Group is used as a form of communication and information exchange. Sharing is caring has a strong influence on lecturers to spread all the information that is on Whatsapp Group. The main reason for disseminating information related to perceptions of interests and usefulness of the information, so that sometimes the lecturers unwittingly spread hoaxes and hate speech.
Downloads
Download data is not yet available.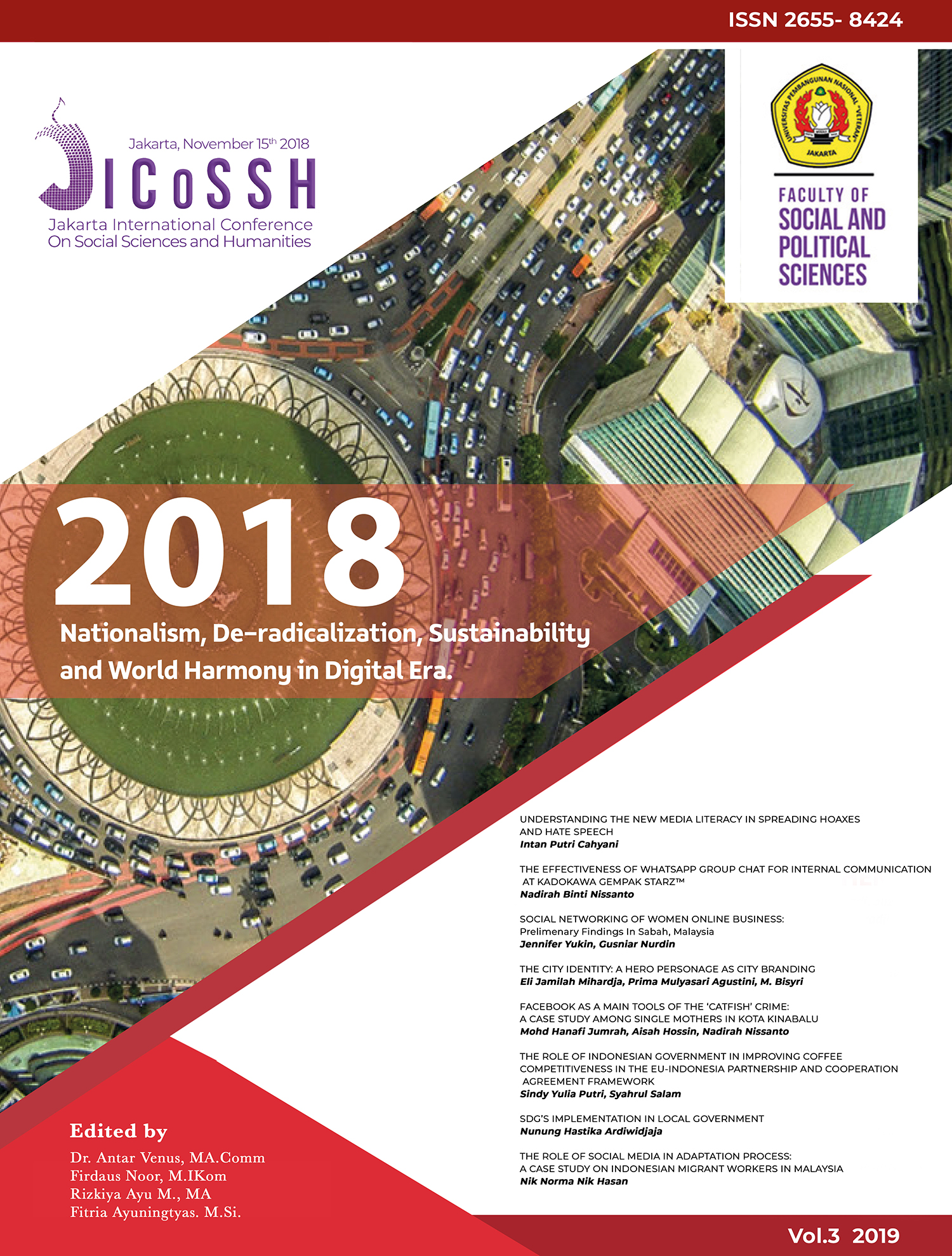 How to Cite
Putri Cahyani, I. (2019). UNDERSTANDING THE NEW MEDIA LITERACY IN SPREADING HOAXES AND HATE SPEECH. Book Chapters of The 1st Jakarta International Conference on Social Sciences and Humanities (JICoSSH), 3, 247-269. https://doi.org/10.33822/jicossh.v3i0.18