THE ROLE OF SOCIAL MEDIA IN ADAPTATION PROCESS:
A CASE STUDY ON INDONESIAN MIGRANT WORKERS IN MALAYSIA
Melly Ridaryanthi

Faculty of Development and Multicultural Studies University College Sabah Foundation
Keywords:
: Indonesian Migrant Workers, Adaptation, Communication, Social Media, Interaction
Abstract
The migration of Indonesian Migrant Workers (TKI) to Malaysia resulted the adaptation experience with the host culture during their repeated social interaction with locals. Communication has bridged the interaction which lead to the process of adjusting cultures among the individuals. Communication has not only occurred in the interaction with people who are staying in the host country, but also with those in their home country. Aside of telephone or text messaging, social media plays a role in the process of adaptation among the immigrants. This study has traced the migration and adaptation experience of 33 TKIs. With the objective of tracing the communication experience in their adaptation process by focusing on the role of social media in their social communication process. Focus group discussions were conducted for data gathering. The findings show that aside of direct interpersonal communication with the locals and fellow immigrants, TKIs keep their communication with the family in Indonesia on daily basis through phone call and social media interaction. Interaction with the host has exposed and helped them to adapt with the local culture. However, the interaction with fellow immigrants and text messaging through social media account with family and friends in home country has kept them updated with what is happening in their home country. The use of vernacular language during the interaction with the fellow immigrants as well as people in the home country kept them linger with their original culture. Thus, social media has kept them in their own enclave culture virtually.
Downloads
Download data is not yet available.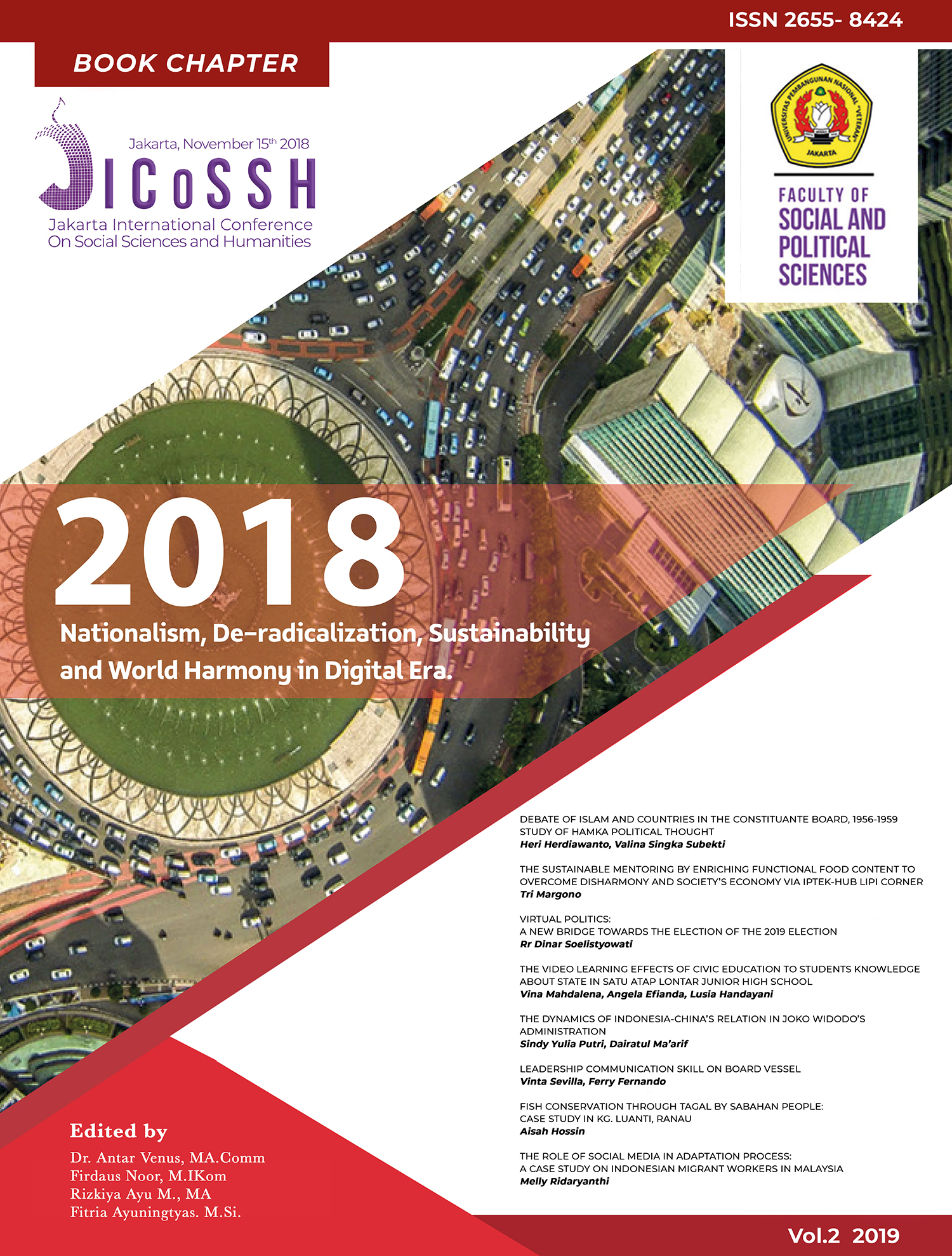 How to Cite
Ridaryanthi, M. (2019). THE ROLE OF SOCIAL MEDIA IN ADAPTATION PROCESS:. Book Chapters of The 1st Jakarta International Conference on Social Sciences and Humanities (JICoSSH), 2(1), 237-246. https://doi.org/10.33822/jicossh.v2i1.17