THE VIDEO LEARNING EFFECTS OF CIVIC EDUCATION TO STUDENTS KNOWLEDGE ABOUT STATE IN SATU ATAP LONTAR JUNIOR HIGH SCHOOL
Vina Mahdalena

Universitas Pembangunan Nasional Veteran Jakarta, Indonesia

Angela Efianda

Department of Political Science, Department of Communication Science, Universitas Pembangunan Nasional Veteran Jakarta, Indonesia

Lusia Handayani

Universitas Pembangunan Nasional Veteran Jakarta
Keywords:
civic education, knowledge, state, video
Abstract
This research purposed to analyze the effect of video learning of civic education about state which was manipulated by experiment group (audio visual method use video) and control group (conventional method use teacher) to gain students knowledge. The samples of the study were fourty students in Satu Atap Lontar Junior High School who had not implemented the audio visual (video) learning method. This study applied an experimental design with pretest and posttest design. The results score of experiment group pretest means are 5.35 and posttest means are 6.2. The increase of knowledge generated from this method was 8.8%, after that, we do the paired t test and did not show any significance at all. Different results were obtained by the control group, with a pretest means are 7.65 and posttest means are 9.1. The increased of this method was 19.7%, after that, we do the paired t test and show the real significant with p<.05. The conclusion that learning by conventional methods can not be completely replaced by audio visual methods. However, they can be collaborated into effective learning methods to increase students knowledge of state in rural schools, especially Satu Atap Lontar Junior High School.
Downloads
Download data is not yet available.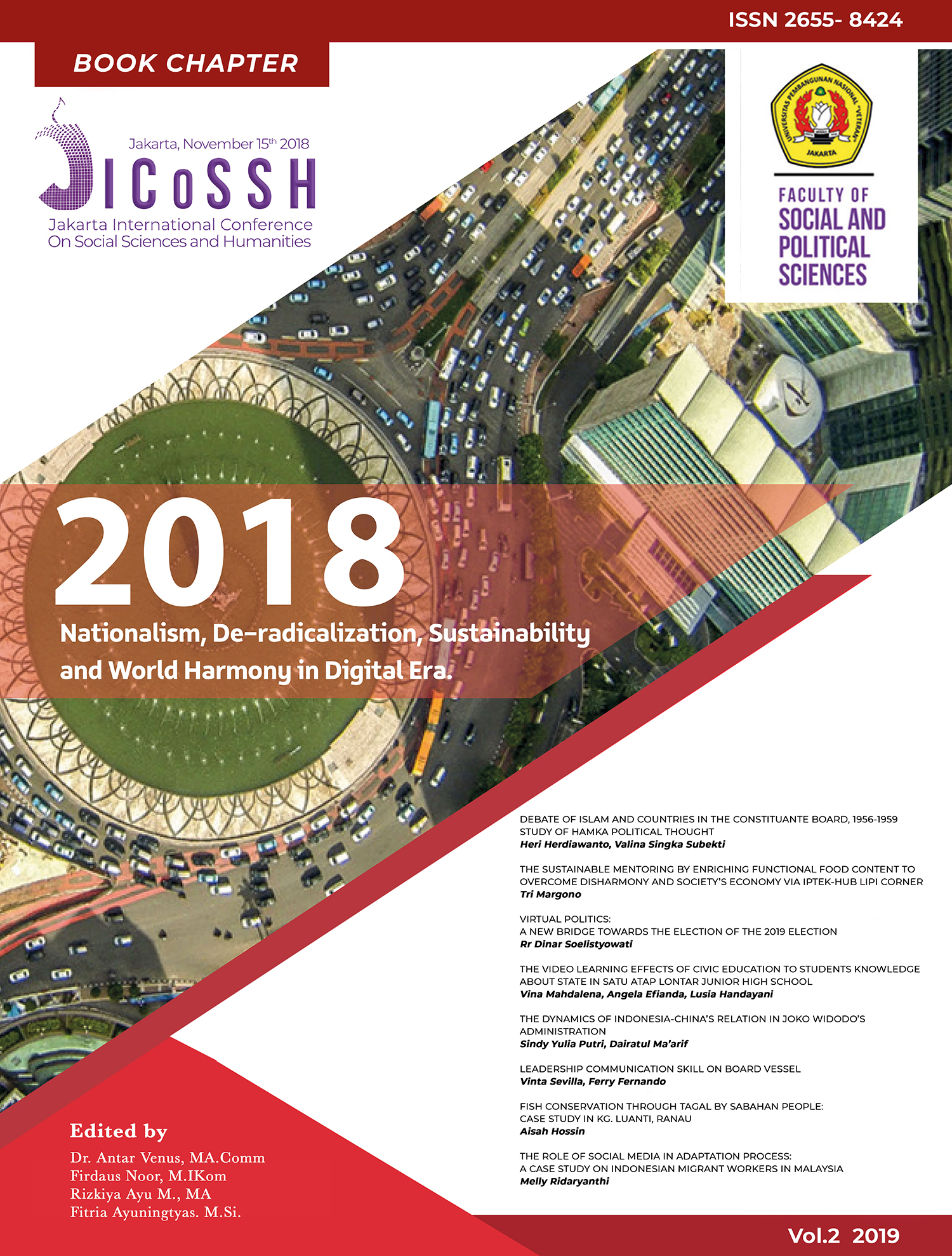 How to Cite
Mahdalena, V., Efianda, A., & Handayani, L. (2019). THE VIDEO LEARNING EFFECTS OF CIVIC EDUCATION TO STUDENTS KNOWLEDGE ABOUT STATE IN SATU ATAP LONTAR JUNIOR HIGH SCHOOL. Book Chapters of The 1st Jakarta International Conference on Social Sciences and Humanities (JICoSSH), 2(1), 196-209. https://doi.org/10.33822/jicossh.v2i1.13