THE SUSTAINABLE MENTORING BY ENRICHING FUNCTIONAL FOOD CONTENT TO OVERCOME DISHARMONY AND SOCIETY'S ECONOMY VIA IPTEK-HUB LIPI CORNER
Tri Margono

Centre for Scientific Documentation and Information, Indonesian Institute of Sciences
Keywords:
Science and technology hub; Appropriate technology information; Functional foods; Ethnic conflict; Social conflict; Social integration; Meeting-point; LIPI corner; Ketapang; West Borneo; Indonesia
Abstract
The mentoring program for society who live in lagging area is very important. The main problem is how to handle the low economy of the society and the low numbers and competences of the extension workers in field of agricultural and fisheries-marine. Disharmony arises due to differences in the economic level of society so that conflicts of inter-ethnic and ethno-religion often occur. Iptek-Hub LIPI corner is the first pilot project of science-technology hub carried out by LIPI in lagging areas in Ketapang (West Borneo). This Hub is intended to address regional problems in order to minimize the science and technology gap for the society. The purpose of this study was to determine the form of social inclusions in science and technology. Sustainable mentoring for society as farmers through information diffusion programs is very important so that society could truly adopt information and technology transfer as a whole. Mentor as an expert assistance for society is needed to overcome the low of agricultural yields (cultivation) and the abundance of fisheries-marine (post-harvest) in this area. Therefore, increasing information content related to functional foods is very important to support the smooth process of mentoring activities. The results from bimtek (technical guidance) activities then break downed and described into matrix form as social inclusions. There are seven forms of social inclusions of society through the availability of Iptek-HUb LIPI corner, such as Iptek-Hub could: accommodate and well-catered information need of society; the availability of location/space as a meeting point for society to convey their problems is fulfilled properly; society be educated through teaching and learning activities; increased access information to information of appropriate technology; applied of appropriate technology information to improve society's economy; Improved society's literacy by provision of appropriate information; and enhancing society's empowerment through the creation of new innovations, especially on verified post-harvest products.
Downloads
Download data is not yet available.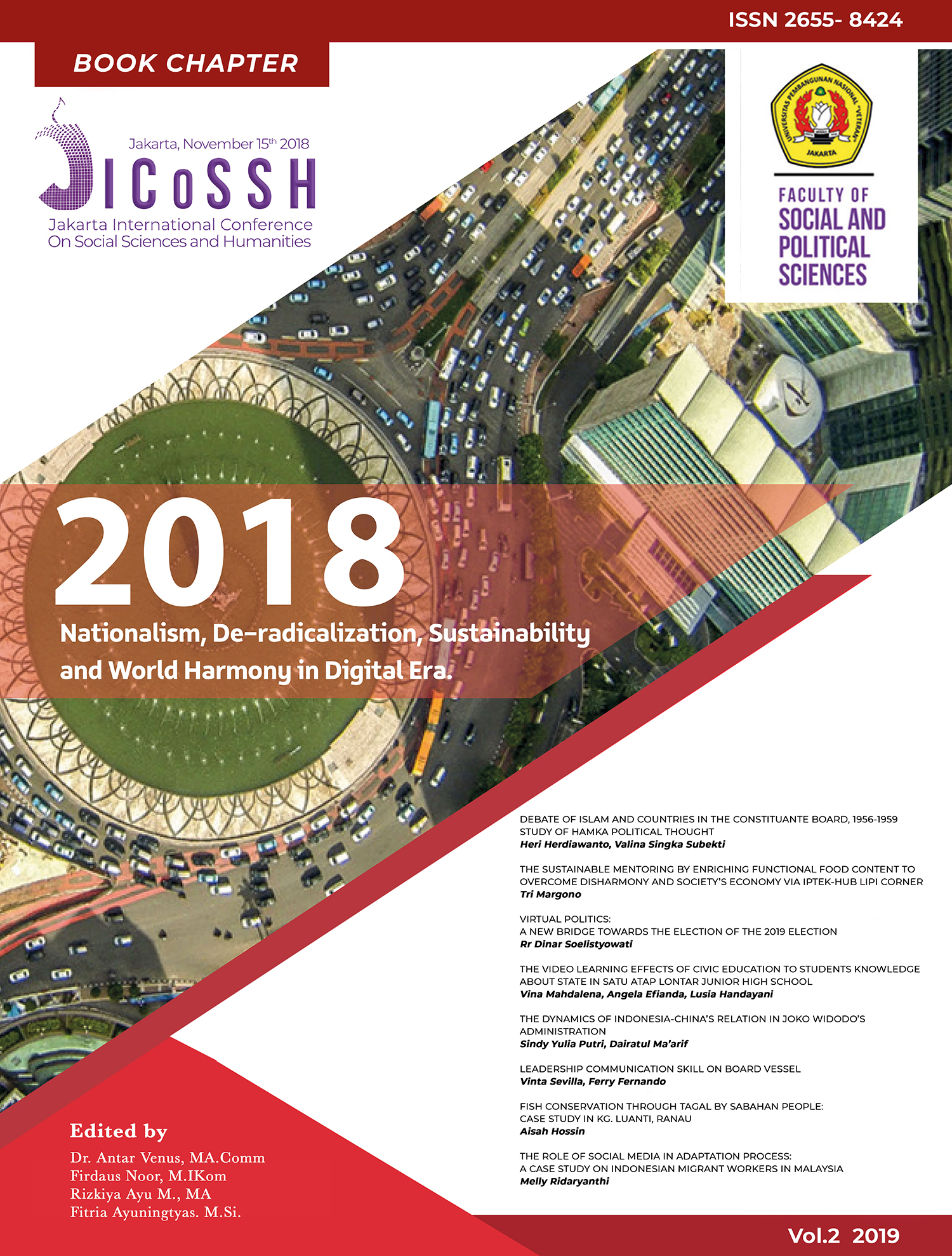 How to Cite
Margono, T. (2019). THE SUSTAINABLE MENTORING BY ENRICHING FUNCTIONAL FOOD CONTENT TO OVERCOME DISHARMONY AND SOCIETY'S ECONOMY VIA IPTEK-HUB LIPI CORNER. Book Chapters of The 1st Jakarta International Conference on Social Sciences and Humanities (JICoSSH), 2(1), 175-179. https://doi.org/10.33822/jicossh.v2i1.11