DEBATE OF ISLAM AND COUNTRIES IN THE CONSTITUANTE BOARD, 1956-1959
STUDY OF HAMKA POLITICAL THOUGHT
Heri Herdiawanto

FISIP Universitas Al Azhar Indonesia

Valina Singka Subekti

FISIP Universitas Al Azhar Indonesia
Keywords:
Islam, State, Hamka, Pancasila, Constituent Assembly, Political Thought
Abstract
This study examines Hamka's political thinking about Islam and the State in the Basic State debate that took place in the Constituent Assembly 1956-1959. Hamka belongs to the basic group of defenders of the Islamic state with Mohammad Natsir in the Masyumi faction, fighting for Islamic law before other factions namely the Nationalists, Communists, Socialists, Catholics-Protestants and members of the Constituent Assembly who are not fractured. Specifically examines the issue of why Islam is fought for as a state basis by Hamka. and how Hamka thought about the relationship between Islam and the state.
The research method used is a type of library research with literature studies or documents consisting of primary and secondary data and reinforced by interviews. The theory used in this study is the theory of religious relations (Islam) and the state.
This study found the first, according to Hamka, the Islamic struggle as the basis of the state was as a continuation of the historical ideals of the Indonesian national movement. The second was found that the constituent debate was the repetition of Islamic and nationalist ideological debates in the formulation of the Jakarta Charter. Third, this study also found Hamka's view that the One and Only God Almighty means Tauhid or the concept of the Essence of Allah SWT.
The implication of this research theory is to strengthen Islamic thinking legally formally, that is thinking that requires Islam formally plays a major role in state life.
The conclusion is that Indonesian society is a heterogeneous society in terms of religion. This means that constitutionally the state recognizes the diversity of religions embraced by the Indonesian people and guarantees the freedom of every individual to embrace religion and realize the teachings he believes in all aspects of life. Hamka in the Constituent Assembly stated that the struggle to establish a state based on Islam rather than a secular state for Islamic groups was a continuation of the ideals of historical will.
Downloads
Download data is not yet available.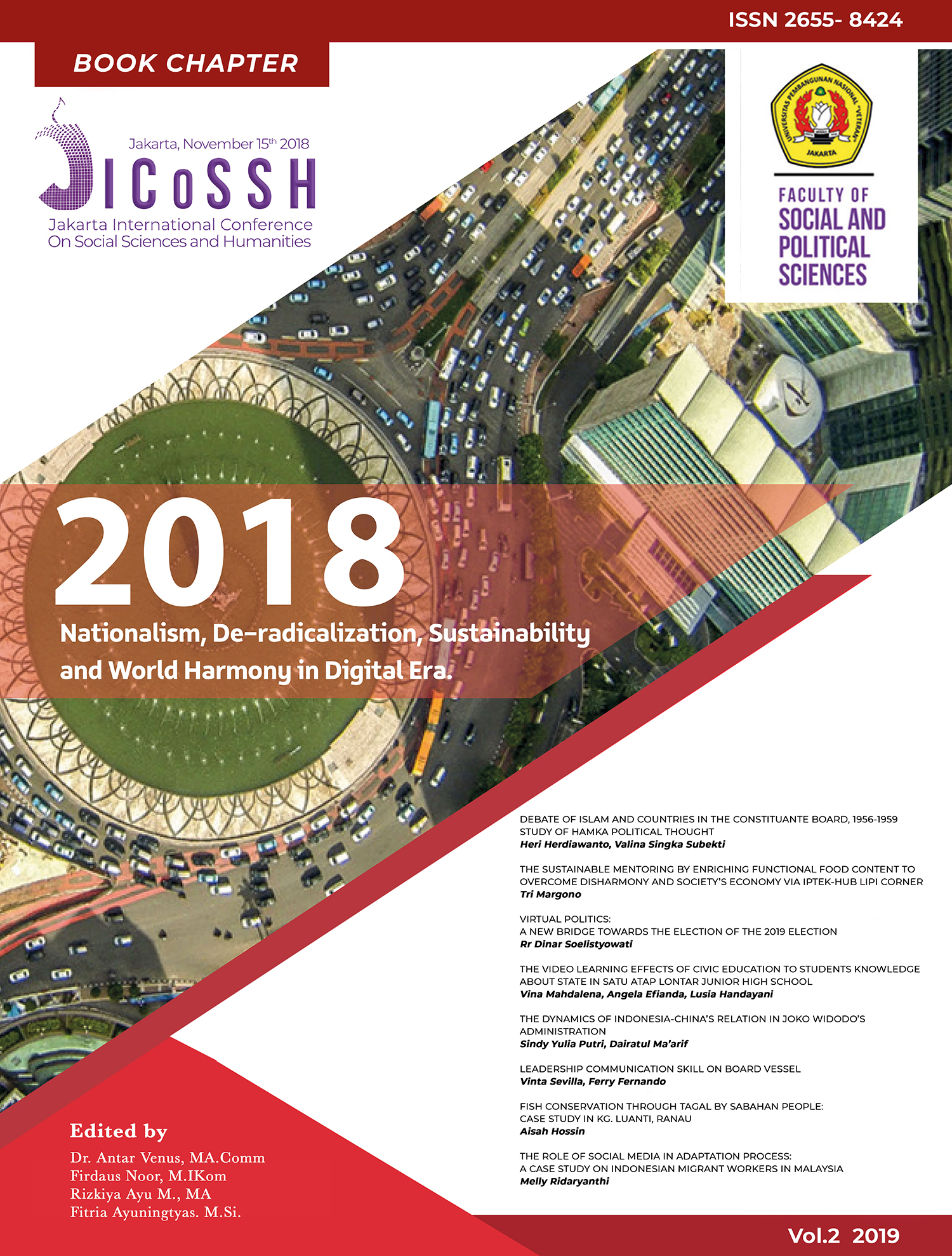 How to Cite
Herdiawanto, H., & Singka Subekti, V. (2019). DEBATE OF ISLAM AND COUNTRIES IN THE CONSTITUANTE BOARD, 1956-1959. Book Chapters of The 1st Jakarta International Conference on Social Sciences and Humanities (JICoSSH), 2(1), 155-174. https://doi.org/10.33822/jicossh.v2i1.10