THE ROLE OF MASS MEDIA AND MINANGKABAU IDENTITY
Wannofri Samry

Andalas University
Keywords:
mass media, journalist, Minangkabau, identity, historical
Abstract
Since early of twentieth century mass media is one of the professional jobs which they done By Minangkabau People, both as journalist or auhtor and publisher. Beside as teacher carier, It seems that the mass media is the professional field that done ealiest of them. Establishing of Minangkabau identity is closely ralated to existence of mass media; with mass media progressing and having dialectic. The intelectual richness of Minangkabau since the early 20th century was known at national level is also not separated from the existence of mass media. Their identity also determained by the mass media; locality, nationalism and globalization influences are processed in mass media to form different Minangkabau world from time to time. This paper presents the establishing of the identiy of Minangkabau people through the mass media on various problem in a historical perspective, mainly after 1950's.
REFERENCES
A.A. Navis, 1986. Pasang Surut Pengusaha Pejuang: Otobiografi Hasjim Ning, Jakarta: Grafiti Pers.
Abrar Yusra, 1994. Otobiografi A.A. Navis Satiris dan Suara Kritis dari daerah, Jakarta: Gramedia Pustaka Utama.
Abrar Yusra, ed., 1997. Tokoh yang Berhati Rakyat: Biografi Harun Zain, Jakarta: Gebu Minang.
Abrar Yusra et. al, 2016. Bung Nasrul Siddik, Jakarta: Teras Cajrawala Ilmu.
Abrar Yusra, 2009. H. Basril Djabar Sahabat Kita, Padang: Genta Singgalang Press.
Abrar Yusra, ed. 2009. Sekali di Daerah tetap di Daerah: Otobiografi H. Basril DJabar
Sebagaimana Dituturkan kepada Abrar Yusra, Padang: Genta Singgalang Press. Azyumardi Azra, 2003. Surau Pendidikan Islam Tradisional dalam Transisi dan
Modernisasi, Yogyakarta: Logos.
Anderson, B, 2001. Imagined Commuunity: Komunitas-Komunitas Terbayang, Yogyakarta:
Insist.
Feith, Herbert, & Lance Castles, ed., 1988.. Pemikiran Politik Indonesia 1945-1965, Jakarta: LP3ES
Grave, E.E. 2007. Asal-Usul Elite Minangkabau Moderen Respons TerhadapKolonial
Belanda Abad XIX/XX, Jakarta: YOI.
Halida Hanum, 1993. Surat Kabar Aman Makmur 1963-1971, thesis Degree, Faculty of Letters, Andalas University.
Hasril Chaniago & Khairul Jasmi, 1998. Brigadir Jenderal Polisi Kaharoedin Datuk Rangkayo Basa, Jakarta: Sinar Harapan.
Harian Haluan, 1970-2017.
Harian Singgalang 1969-2017.
Jansson, David R, 2003. "American National Identity and The Progress of the New South in
National", Geographical Review; 93 (3) p. 350
Kasoema, 1958. Persuratkabaran di Sumatera Tengah in Kenangan Sekilas Sejarah
Perdjuangan Pers Sebangsa, Jakarta: SPS.
Labeș, Sebastian Andrei, n.y. "Globalization and Cultural Identity Dilemas", CES Working
Papers – Volume VI, Issue 1
Loeb, Edwin M., 1972. Sumatra Its History and People, Kualalumpur-Jakarta: Oxford
University Press.
Maryn, L John and Anju Chaudary, 1997. Sistem Media Massa Suatu Perbandingan,
Kualalumpur: Dewan Bahasa dan Pustaka.
M.D. Mansoer, et.al. 1970. Sedjarah Minangkabau, Jakarta: Bhratara.
Mohammad Hatta, 1960. Demokrasi Kita, Jakarta: Pustaka Antara P.T.
Oman Fahurrahman, 2008. Tarekat Syatariyah di Minangkabau, Jakarta: Prenada Media
Group-EFEO-KITLV.
Perret, Daniel, 2010. Kolonialisme dan Etnisitas: Batak dan Melayu di Sumatera Timur,
Jakarta: KPG-EFEO-P3AN.
Usman Pelly, 1998. Urbanisasi dan Adaptasi Peranan Misi Budaya Minangkabau dan
Mandailing, Jakarta: LP3ES.
Saafroedin Bahar, 2015. Etnik, Elite dan Integrasi Nasional : Minangkabau 1945-1984, Republik Indonesia 1985-2015, Yogyakarta: Gre Publishing.
Sen, Amartya, Ed. 2007. Peace and Democratic Society, Open Book Publishers.
Katić, Mario, Nataša Gregorič Bon, John Eade, 2017."Landscape and heritage
Interplay:Spatial and temporal explorations" pp. 5-18 in Anthropological Notebooks, XXIII/3,
Taufik Abdullah, "Modernization in the Minangkabau world: West Sumatera in Early Decades of theTwentieth Century" in Claire Holt, Culture and Politic in Indonesia, Singapore: Equinox Publishing PTE LTD, 2007.
Taufik Abdullah, 2018. Sekolah dan Politik: Pergerakan Kaum Muda di Sumatera Barat 1927-1933, Yogyakarta: Suara Muhammadyah.
Wannofri Samry,2013. "Penerbitan Akhbar dan Majalah di Sumatera Utara 1902-1942: Proses perjuangan Identiti dan Nasionalisme. Disertasi PhD, Universiti Kebangsaan Malaysia.
Wannofri Samry, 2011. "Medan Press: National Identity Finding Process ", Historia Vol. XII, no. 1
Wannofri Samry, 2012. "Ideas and Activities of Journalists of Minangkabau Women in the Dutch Colonial Period", Jebat: Malaysian Journal of History, Politics and Strategic Studies, 39 (2).
Downloads
Download data is not yet available.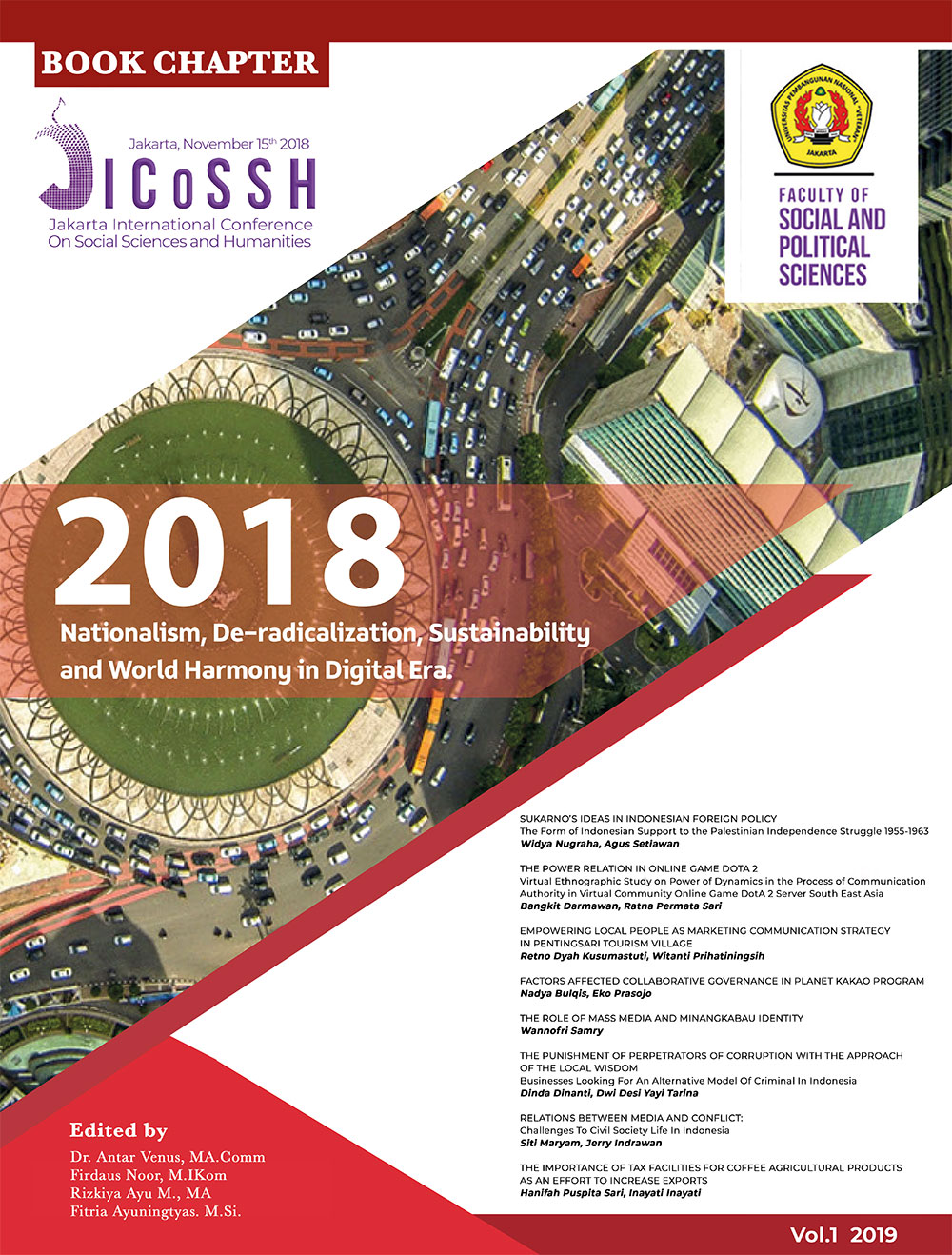 How to Cite
Samry, W. (2019). THE ROLE OF MASS MEDIA AND MINANGKABAU IDENTITY. Book Chapters of The 1st Jakarta International Conference on Social Sciences and Humanities (JICoSSH), 1(1), 52-64. https://doi.org/10.33822/jicossh.v1i1.1